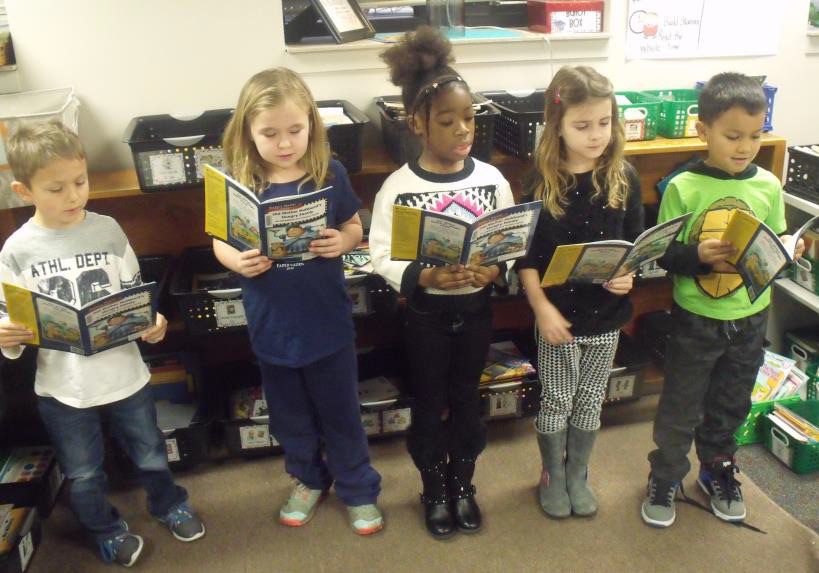 First-graders at Lowell Elementary School read from a Reader's Theater book for teacher Allie DeJong.
Allie DeJong, a special education teacher at Lowell Elementary School, wanted books that would get her students more engaged in reading, and she found some.
As a bonus, she also got parents more engaged in their children's education.
DeJong found help in a series of Reader's Theater books. She bought the publications with an Innovation in Education grant for about $3,800 that she received from the Education Foundation.
She purchased the books last year while she was teaching at Laura Wilder Elementary. When she moved this school year to Lowell, Laura Wilder wanted to keep the books. So the district bought her a set of the books to use at Lowell.
Some of the books are geared for students in kindergarten and others for students in the second through about the sixth grade.
The books are written in skit form. So, students can be assigned to read the part of specific characters in groups.
They practice in groups and, a few times a year, their parents are invited to school to watch a presentation.
Students' parents and relatives have loved the readings, DeJong said. They took photographs and enjoyed cupcakes in a festive environment.
The books for younger students feature nursery rhymes and songs, such as "This Little Pig." The books for older students focus on word play and grammar. In the book, "You're in the Punctuation Army Now," for example, the characters are punctuation marks. Here's an example of an exchange between characters:
Sarge: "And who are you?"
Exclamation Point: (loudly) "Exclamation Point, first-class, sir! I'm trained to add emphasis to statements, sir!"
Sarge: "An exclamation point, you say?"
Exclamation Point: (very loudly) "Front and center, sir! Yes, sir!"
DeJong, who is working on her master's degree, is in her first year at Lowell and her third year of teaching, overall. She had had been looking for something to spark students' interest in reading and thinks she succeeded with the new books.
"I wanted to get them motivated, and Reader's Theater was something new, and it got parents in the door," she said. "I've found that when kids get a new book their reading stamina increases."
The grant she received enabled DeJong to acquire 378 books. Multiple copies of 24 titles are available to students and other teachers. She received the grant during 2015-2016 school year, but the 2016-2017 is the first full school year in which the reading program has been used.
DeJong said she appreciated the opportunity to apply for an Education Foundation grant and was grateful to the donors who funded it.
The Education Foundation Board awarded 18 grants for a record high total of nearly $48,000 during the 2015-2016 school year. Board members would like to raise more donations and expand the program.
For more information about the Education Foundation and its programs, see www.sfeducationfoundation.org.
To read all of the articles in the latest edition of the Foundation Newsletter, click to download your copy. February 2017 Newsletter
Save
Save
Save
Save