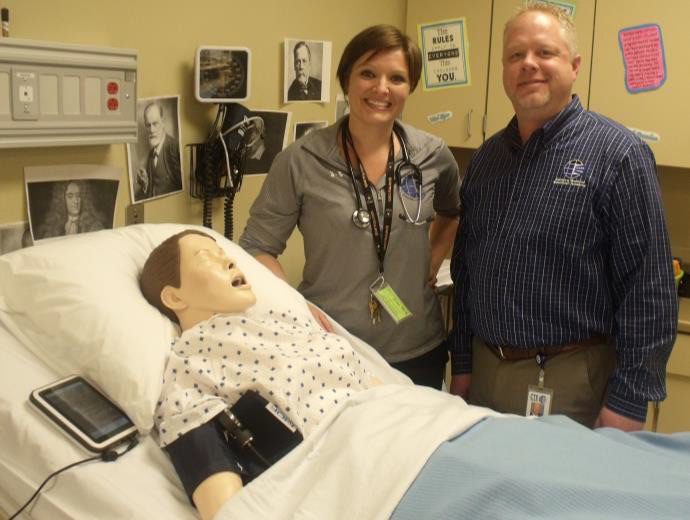 Getting students practical experience in health care is tricky, partly because laws and other realities limit opportunities for children to work with real patients.
Sarah Stokke, a health careers instructor at the Career & Technical Education Academy in Sioux Falls, has effectively addressed the challenge by acquiring two, new simulation mannequins.
Stokke, who is also an experienced registered nurse, can program the lifelike mannequins to exhibit symptoms such as an unusual pulse rate to enhance learning opportunities in a safe environment. Fake blood can even be drawn from the mannequins.
Stokke earned a $9,031 grant from the Education Foundation and convinced Laerdal, the company that makes the mannequins, to provide the school two for the price of one. The company agreed to the request.
Sanford Health, in turn, covered most of the cost of the grant, which helped the Education Foundation to fund additional educational projects.
"I'm just so grateful. This is huge," Stokke said. "I'm blown away that a grant would support a program like this. My students will learn so much."
Stokke and other instructors at the academy use the two new mannequins and one the school previously acquired to help students become certified nursing assistants, which is a job-ready level of educational training.
The Career & Technical Education Academy gives students from 10 school districts opportunities to explore career-oriented learning in a variety of fields in addition to health science. Other fields include, for example, construction and hospitality.
"Our mantra here is learning by doing," said Principal Josh Hall. He praises how dedicated Stokke is to her students and how she effectively mixes her experiences as a nurse into her teaching.
Nancy Duncan, who coordinated the Education Foundation committee that reviewed applications for Innovation in Education grants, also is impressed by Stokke.
"She just blew the socks off the committee," Duncan said. "She's so passionate about what she does."
The grant for the simulation mannequins is the single largest grant ever awarded by the Education Foundation. However, several other interesting educational projects also have been awarded grants for the 2017-2018 school year.
In all, 18 grants totaling a record high $57,415 were awarded. The Education Foundation had received 72 applications that collectively requested about $208,000 in funding.
Among other grants funded this year was one at Washington High School for a monthly newsletter to feature the talents, achievements and skills of Native American students. The grant for $1,320 was earned by teacher Bruce Rekstad.
Here is a summary of this year's other 16 grants:
Shelly Pierson at The Outdoor Campus for a puzzle box learning project. $1,213.
Rhonda Begley at Pettigrew Elementary for a puzzle-box learning project. $922.
Katie Ristau at Pettigrew Elementary for an Osmo game system to help students learn mathematics. $430.
Mikaela Kavanaugh at Hawthorne Elementary for flexible classroom seating options. $589.
Autism team leaders Nicole Freeman, Heather Hinners, Cindy Brakke and Marlae Newman for resource materials to help students manage emotions. $2,900.
Jamie Hill of J.F. Kennedy Elementary for an Osmo game system to enhance interactive and tactile learning. $1,120.
John Laughlin of Memorial Middle School and Alexandra Hoffman of Patrick Henry Middle School for electronic mallet instruments to enhance student interest in music and performance. $6,360.
Cathie Vortherms of Pettigrew Elementary for UNICEF Kid Power classroom kits to help students learn about global malnutrition. $836.
Melissa Hittner and Mary Gail Monahan at New Technology High for a project that combines English and biology. Students will read The Martian and design a garden plausible to grow on Mars. $2,551.
Nathan Hofflander at Roosevelt High to enhance science and technology education through use of flying drones. $3,264.
Jared Hulstine at Bridges at Horace Mann Elementary and Sarah Winterscheidt at Lincoln High for a collaborative photography project. $4,872.
Jackie Beilke of Lincoln High for a project to help incorporate the use of digital media into art. $3,045.
Instructional coaches Stefanie Hage and Kim Poppenga-Smith to form partnerships to enhance student learning opportunities in science, technology, engineering and mathematics. $5,763.
Becky Worden of J.F. Kennedy for educational materials to help the Special Education team. $2,748.
Amy Miller at McGovern Middle School for robotic materials to enhance students creative and design skills. $7,415.
Erin Radway and Wade Helleson at Lowell Elementary for a 3D printer to improve coding skills. $2,551.
To read all of the articles in the latest edition of the Foundation Newsletter, click to download your copy. May 2018 Education Foundation newsletter